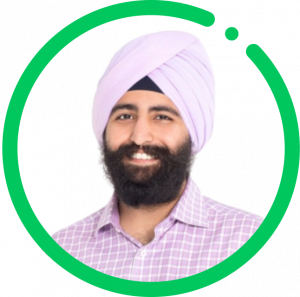 MIAMI, FL, August 29, 2023 — Social PayMe, an innovative fintech platform-as-a-service catering to the needs of social media influencers, is pleased to announce the appointment of Gurtegh Singh as its new Chief Executive Officer.
Armed with a Juris Doctor degree from Emory University and an MBA from the University of Miami Herbert Business School, Singh brings an impressive record of driving corporate growth and strategy. He played a pivotal role in propelling City Furniture's revenue from $250 million to $1 billion within just four years.
Additionally, Singh holds a Lean Six Sigma Black Belt certification and has successfully facilitated over $200 million worth of mergers and acquisitions.
"I am incredibly enthusiastic about taking on the role of CEO at Social Payme," Singh states. "This represents a remarkable opportunity to revolutionize the way influencers manage, market, monetize, and measure their social media content. Our user-friendly mobile software will assist influencers worldwide in adhering to ever-evolving compliance regulations across more than 47 countries, including regulations such as 'Payola.'"
In his new role
Gurtegh will be responsible for overseeing all operational aspects, implementing strategic initiatives, and managing day-to-day operations. Drawing on his extensive background in law, operations, and strategy, he is well-positioned to guide the company through its upcoming phase of exponential growth.
His deep understanding of regulatory frameworks relevant to social media marketing, including entities like the Federal Communication Commission (FCC), Federal Trade Commission (FTC), Securities and Exchange Commission (SEC), and international laws, will play a critical role in setting the industry standard for influencer certification, compliance, and verification.
Harold Krent, former Dean of Chicago Kent College of Law and current Chairman of Social Payme Technologies Inc., praises the selection: "Gurtegh possesses the essential skill set and experience that a visionary leader in this industry requires. I am confident that he will pave the way to success for Social Payme. His extensive legal expertise and business leadership make him the ideal candidate to steer our journey in this burgeoning $20 billion market."
About Social PayMe
Social PayMe Technologies Inc. stands as a groundbreaking fintech platform-as-a-service, transforming the social media landscape for influencers by providing a suite of state-of-the-art tools to support them in managing, marketing, monetizing, and gauging their social media influence.
Founded in 2022 and headquartered in Miami, Florida, Social PayMe is driven by a bold mission: to democratize social media economics and ownership for all users – including influencers, brands, and followers. The company's forward-looking approach is in line with the dynamic social media influencer landscape, with aspirations to capture a share of the projected $84 billion influencer market by 2028.
For media inquiries, please contact:
Jenny Kefauver, jenny@socialpayme.com, 703-850-3533
________________________________________
About Social Payme Technologies Inc. Please visit our website: www.socialpayme.com. World Headquarters Address: 1221 Brickell Blvd, Suite 900-269, Miami, FL 33131.
Jenny Kefauver
Social PayMe
+1 703-850-3533
Visit us on social media:
Facebook – https://www.facebook.com/socialpaymeInc
Twitter – https://twitter.com/socialpaymeinc
LinkedIn – https://www.linkedin.com/company/social-payme/
Instagram – https://www.instagram.com/socialpayme/?hl=en